5.75inch Halo Blue Tooth Motorcycle Front LED Headlights
Hawks' new upgrade 5.75inch Halo Blue Tooth Motorcycle Front LED Headlights is RGB lighting to provide a high-performance safety solution with improved light output, glare reduction, and EMC built-in to avoid electromagnetic interference and flicker issue. Made with original CREE or Osram-led Chips,50% brighter than other similar headlights. Operating Lumens Output: 10000lm. Tough die-cast aluminum housing, with added scratch prevention technology on the mirror. Anti-fog and hard-coated PC lens to prevent cracking and formulated to resist UV or chemical damage.Also with the Superior condensation management. Maintenance Free, Water-proof IP67.Plug and play on the new Indian Challenger
Features
High quality: The best Eagle Lights 5.75″ LED headlight. 5-3/4 RGB headlight uses high-quality polycarbonate lens construction for extra durability and heat-treated die-cast aluminum for the body. Powered by high output LEDs, it is the best and the brightest 5.75″ LED Headlight available.
PLUG N' PLAY: Ready to use out of the box! No splicing, no wiring, no capacitors, just ready to use. We build everything needed inside the headlight so you don't have to wire it.
DOT And Emark: DOT and E Mark approved guarantees that your lights are legal on the road, meeting section 108 requirements of the Federal Motor Safety Standards. Your DOT compliance is clearly etched on the lens of the light.
LIFETIME WARRANTY: Our LED headlights are designed to outlast your bike! But should something go wrong, you are covered by the Hawks Lights Lifetime Manufacturer Warranty. The best warranty in the business! No hassle returns and no hassle warranty replacement.
HAWKS Offer the best quality but lower price in the market
Motorcycle Front LED Headlights| Specification
Specification for 5.75inch RGB Halo Blue Tooth Motorcycle Front LED Headlights
Unique design only made by Hawks
80W, 5.75″ Headlights, super-bright,12V/24V
Using real Osram led chips, high quality, longer life span, and brighter
high low beam function, RGB lighting modes
With EMC: Anti-electromagnetic interference
Plug and play, easy to install
Waterproof IP67
| LED Chip | CREE/OSRAM | Product size | 7inch or 5.75inch Harley division |
| --- | --- | --- | --- |
| Voltage | 9-16V DC | Waterproof | IP67 |
| Color Temperature | 6000K | Working temperature | -40℃~+80℃ |
| Lumen | 3600LM for High beam,2400LM for Low beam | Material | Diecast Aluminum Housing |
| Lifespan | 50000hours | Power | 50W |
| Function | High/Low Beam/RGB | Mounting Bracket | Stainless Steel |
| Certificates | DOT, CE, RoHS, IP67, SAE, EMARK | Lumens | Light output about 10000 lumen |
| Current draw: | 1.8A @ 12V, 0.9A @ 24V | Lens | PC |
5.75inch RGB Halo Blue Tooth Motorcycle Front LED Headlights
Advantages of our Motorcycle LED Headlights
Multi-Function
RGB16 million colors, Bluetooth connection,121 scenes mold, music mode. Change any colors as you want, brightness control, more than 121 modes(chasing, running, etc)can be chosen speed and brightness control, can turn on music, all functions can dance with music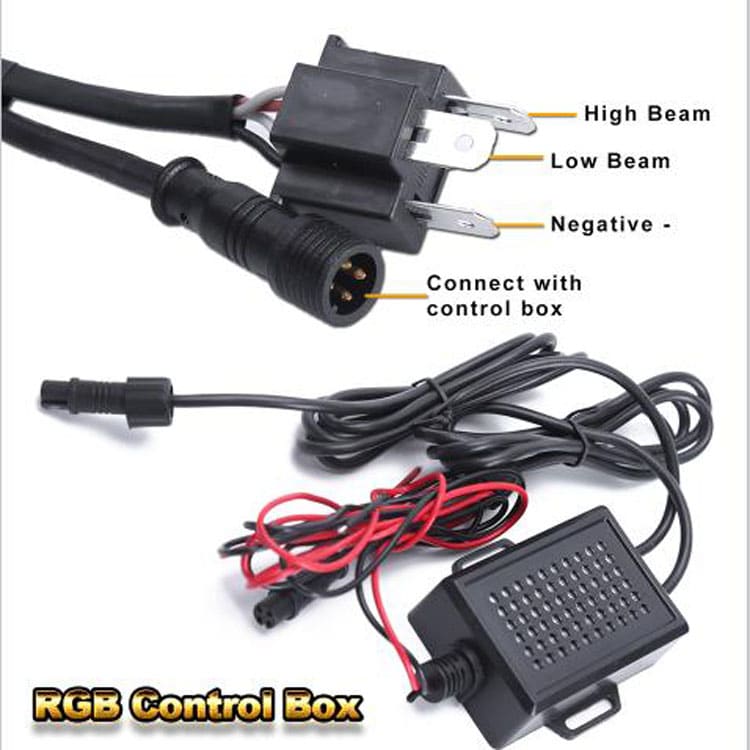 Exclusive feature
motorcycles headlight with passing light combo kit Built-in EMC function inside the lights to avoid flickering or interfering with your bike radio, no need for extra anti-flicker hardness. Huge upgrade for the appearance, make your bike become the focus of many ordinary Harley bikes!
Waterproof IP 67
5.75inch RGB Halo Blue Tooth Motorcycle Front LED Headlights, Well sealed made, IP67 waterproof, even work under the water! Dust-proof,shock-proof over 50000 hours of lifetime, no matter how hard the road in front of you, they will be your most reliable friend.
5.75 inch LED Motorcycle Headlight for Harley Davidson
for Harley-Davidson with 5.75 In. LED Headlight
1996- for Later XL1200C
1998- for Later XL883C
1994- for 2008 FXDWG
2006- for Later FXD, FXDL, FXDC, FXDB, FXD35, FXDSE,FXDF
1999-2000 for FXR2, FXR3, FXR4
1984-1999 for FXSTC
1999-Later FXST, FXSTB, FXSTC
2000-2007 FXSTD
2000-Later XL, Dyna (except FXDF), FX Softail
2005 VRSCB
2003 for Honda shadow
2015-2017 for Indian Scout
2017 for Victory Octane
2007-2016 for Harley Dyna Street Bob
1997-1999 for Heritage Springer FLSTS
2007-2011 for Night Rod Special VRSCDX
2006-2008 for Night Road VRSCD
2017 for harley Street rod 750
2005 2009 for Night Train
2015 for Rocket Roadster
2013-2016 for Breakout FXSB
2003-2006 for Sportster
2009-2017 for Iron 883 XL883N
2010-2017 for Fourty Eight Sportster 48(XL1200X)
2017 for custom softail
2014-2016 for Low Rider FXDL
2011-2016 for SuperLow XL883L
5.75inch RGB Halo Blue Tooth Motorcycle Front LED Headlights are covered by a 24month LED Warranty. Our goal is to make sure you get the right product and you are happy with it. If you have a warranty question or need help with setting up a warranty exchange/return, please contact us directly. We are here to help you. Additionally, any product that is not correct or does not meet your expectations can be returned within 30 days for a full refund. Items returned to us need to be in new condition with the original packaging.
About HAWKS
Guangzhou Hawks Motoparts Co., Ltd is a leading vehicle lighting manufacturer and supplier in China, With more than 15 years of industry experience. Hawks lighting has been pushing the envelope with the latest in LED technology. Hawks Lighting manufacture the brightest and most affordable motorcycle lighting kits available on the market, period. Not only do our lights add a custom, vibrant style to any bike, but they also increase the visibility of the rider when riding at night. Available in multi-color and single color options, this is the one-stop for anyone looking to add accent lighting and safety to their sports bike, trike, cruiser, or metric bike. Moreover, Hawks also produce truck light kits including truck led lights, truck signal light kits, truck brake lights and offroad lights,4×4 led lights. with 15years of experience in the field of the vehicle lighting industry. And now we play a leading role both home and abroad, we insist on" Quality First, Trusting First and Service First" as our business philosophy
Custom Motorcycle LED Headlights
Contact Us
Are you looking for vehicle lighting manufacturers?
24hours online Service