LED Saddle Bag Filler Lights with Brake, Running Lights, and Turn Signals
The Hawks Lights LED Saddle Bag Filler Lights with Brake, Running Lights, and Turn Signals, New ear fender saddlebag side light auxiliary run, brake, turn lamps led lighting filler panels. Smoothing out the back of your bike to create a finished custom look, dramatically increase ear visibility, and add uniqueness and style to your bike Each unit is covered by a Lifetime Warranty. Also with the Superior condensation management. Maintenance Free, Water-proof IP67.Plug and play on the new Indian Challenger
Features
High quality: Add visibility and style to your ride with the Hawks Lights LED Filler Panel Lights. These lights are designed to complement the styling of your motorcycle while adding needed light. These run, brake, and turn LEDs lights will draw the attention of other drivers on the road. 
PLUG N' PLAY: All parts are included in the kit and they will plug directly into the existing harness. Installation instructions included
DOT And Emark: DOT and E Mark approved guarantees that your lights are legal on the road for this LED Saddle Bag Filler Lights with Brake, Running Lights, and Turn Signals
Multi-Function: The LED running lights shine a constant soft red neon-like glow. The units will illuminate an intense red for a safer and brighter brake light. The dramatic change in brightness will better alert drivers who are coming to a stop behind you, allowing them more time to react and keeping you safer on the road. The LED turn signals are bright and highly noticeable. They shine red to match the other functions of the lights. 
 24MONTH WARRANTY: Our LED Saddle Bag Filler Lights with Brake, Running Lights, and Turn Signals is designed to outlast your bike! But should something go wrong, you are covered by the Hawks Lights Lifetime Manufacturer Warranty. The best warranty in the business! No hassle returns and no hassle warranty replacement.
HAWKS Offers the best quality but lower price in the market
LED Saddle Bag Filler Lights | Specification
Specification for LED Saddle Bag Filler Lights
LED Saddlebag Filler Support Light
super-bright,12V/24V
high quality, longer life span, and brighter
Turn Signal Light &Running light &Brake Light &Hazard Lights
With EMC: Anti-electromagnetic interference
Plug and play, easy to install
Waterproof IP68: with rebreathers, high grade waterproof IP68
aluminum alloy thicker housing, better heat dissipation
Mounting Position: Left and Right In the Rear
Application: The light is used as a supplement to the post-installation lighting and is allowed to be removed using the detachable mounting kit
Housing: better heat dissipation, strong waterproof
Fitment:
For FLHTCU/L Electra Glide Ultra Classic/Low
For FLHTK/L Ultra Limited/L ow
For FLHTKSE CVO Ultra Limited For FLTRU Road Glide Ultra
For FLTRUSE CVO Road Glide Ultra
For FLHR Road King 2014-2020(except '17 FLHRXS) CVO models require removal of factory saddlebag support filler strips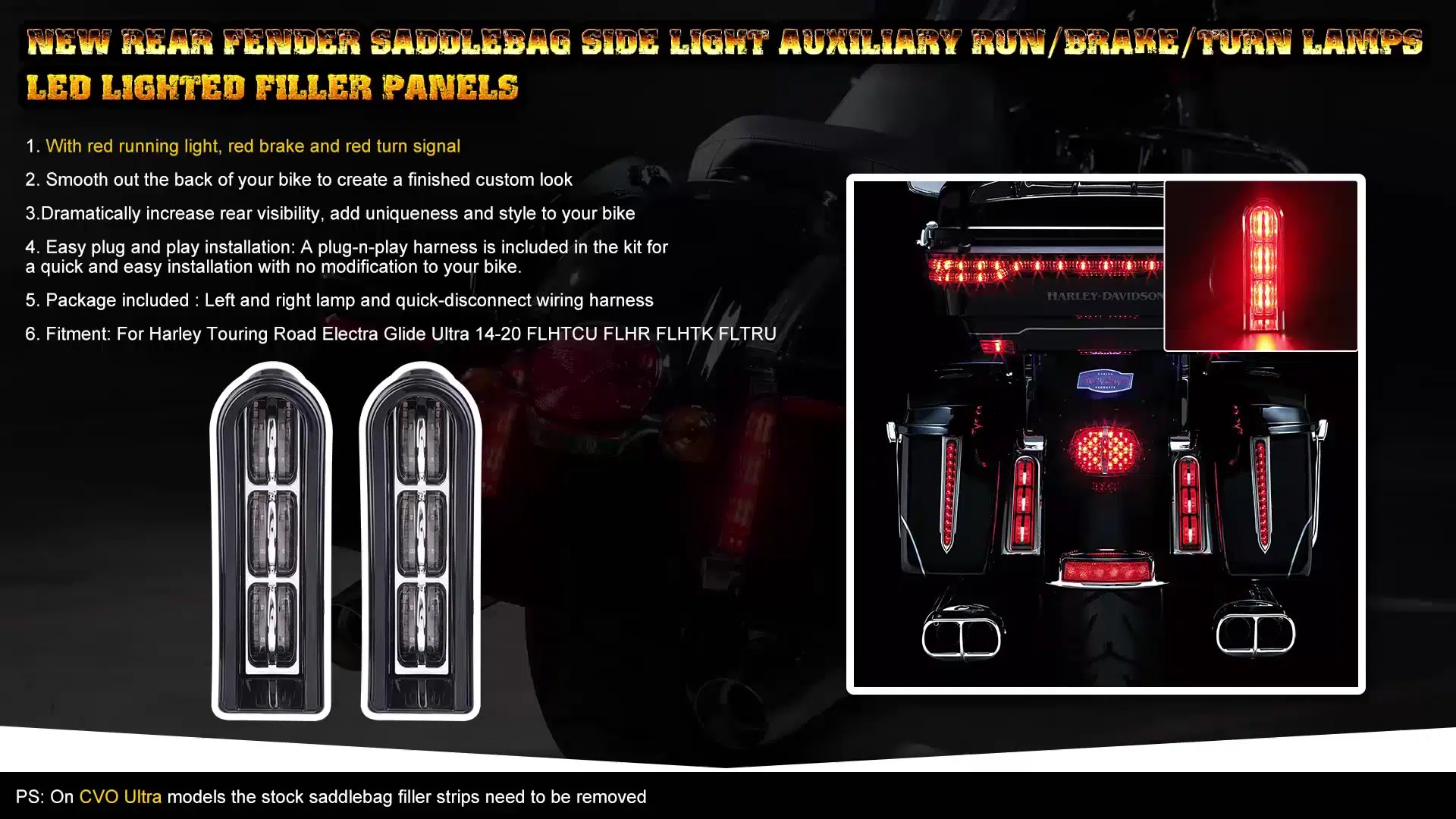 LED Saddle Bag Filler Lights with Brake, Running Lights, and Turn Signals are covered by a 24month LED Warranty. Our goal is to make sure you get the right product and you are happy with it. If you have a warranty question or need help with setting up a warranty exchange/return, please contact us directly. We are here to help you. Additionally, any product that is not correct or does not meet your expectations can be returned within 30 days for a full refund. Items returned to us need to be in new condition with the original packaging.
Feedbacks
About HAWKS
Guangzhou Hawks Motoparts Co., Ltd is a leading vehicle lighting manufacturer and supplier in China, With more than 15 years of industry experience. Hawks lighting has been pushing the envelope with the latest in LED technology. Hawks Lighting manufacture the brightest and most affordable motorcycle lighting kits available on the market, period. Not only do our lights add a custom, vibrant style to any bike, but they also increase the visibility of the rider when riding at night. Available in multi-color and single color options, this is the one-stop for anyone looking to add accent lighting and safety to their sports bike, trike, cruiser, or metric bike. Moreover, Hawks also produce truck light kits including truck led lights, truck signal light kits, truck brake lights and offroad lights,4×4 led lights. with 15years of experience in the field of the vehicle lighting industry. And now we play a leading role both home and abroad, we insist on" Quality First, Trusting First and Service First" as our business philosophy
Custom Motorcycle Tail Lights
OEM ODM factory customization,We have 15 years of factory experience, focusing on withstanding all kinds of car lights, supply a lots of auto lighting system,Customized orders, OEM orders, ODM orders are all welcome.
Contact Us
Are you looking for vehicle lighting manufacturers?
24hours online Service