LED Trailer Tail Lights, Brake Lights, Side Marker Lights
LED Trailer Tail Lights, Brake Lights, Side Marker Lights are upgraded LEDs with high-performance, to give you super brightness with lower power consumption than traditional lights. They can be used as Led Marker lights, truck tail lights, truck brake lights, truck turn signals, truck warning lights, providing you with more on-road warning lights options, Made of premium PC and ABS materials, IP67 waterproof makes it perfect for riding on the road even on rainy or stormy days to keep you. Fit for trucks, trailers,atv, etc
Features
Lasting and serviceable: LED Truck Lamp is made of quality LED and plastic, reliable, not easy to deform and break, and can keep for a long time; The surfaces of these lights are smooth and comfortable to touch, do not need to worry about scratching your fingers
Super Bright: Each tail light has 10PCS high-quality SMD LEDs to output super bright red/white light, high brightness for stop/turn/reverse light, and low brightness for Tail light, improving visibility and ensuring you a safer night.
Multifunction Match diverse cars: this LED Truck Lamp is suitable as LED marker lamps, car side lamps, brake lights, tail lights, turn signals,and trailer lamps for many kinds of cars, such as trucks, trailers, horse trailers, travel trailers, boat trailers, RVs, and more to worry about scratching your fingers
Absolutely waterproof: The seamless shell and additional waterproof cap guarantee the protection level of IP67, and the service life is about 50,000 hours.
HAWKS Offers the best quality but lower price in the market
Features
6" Oval Trailer Tail Lights, each light has 10PCS high-quality SMD LEDs to output super bright red light. It comes with surface mount grommet and standard 3-prong plug with attached wire for easy installation. Can work perfect as stop/turn/tail/reverse or back up for your vehicle.
Light Color: Red, White
Working Voltage: 12V DC
Hole size for surface mount: 6.6" x2.5" x 1.75"
Upgrade design for firm installation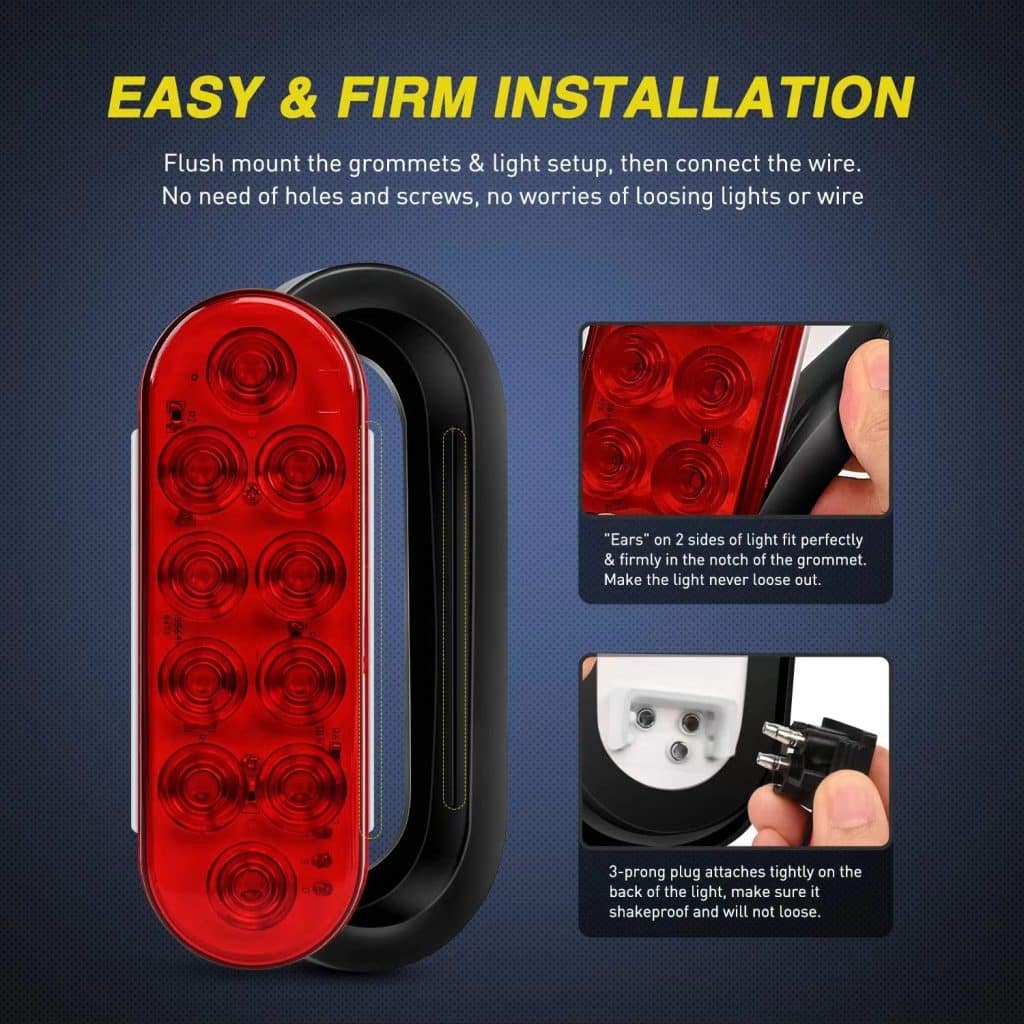 High-quality SMD LEDs
Each tail light has 10PCS high-quality SMD LEDs to output super bright red light. Safe your night with bright light.
All in a set
The tail light comes with surface mount grommet as well as the standard 3-prong plug with attached wires. All in a set for easy installation.
Surface Mount Hole Size
Hole size for surface mount is: 6.6" x2.5" x 1.75" , remember to double check it before your purchase.
Upgraded Unique Design: Light has unique "ears" on its two sides, upgrade notches on the inside of grommet, and a tighter attaching ability between 3-prong plug and it. These help the light fit perfectly and firmly on the grommet, and the 3-prong plug attaches tightly on the light. Shakeproof, there will be no worries of loosing light or wires.
Waterproof IP67: Silicon sealed, IP67 waterproof rating, ready for different kinds of weather attack.
Universal Application: Work on 12V DC system, function as reverse/back up, tail light for all kinds of trucks, trailers, tractors, semi-trailer, horse trailer, travel trailer, dump Truck, special vehicle, etc. Just make sure the hole size before your purchase.
Advantages:
1: Easy to install
2: Vehicle-grade specialized led chips: can be used in -40℃~105℃ ambient temperature
3: Waterproof IP67, long brightness
4:Built in EMC, anti-electromagnetic interference, no canbus problems
5. Clock design, unique design in the world
6. Super bright LED, Stable steel, not easy to wear, Easy installation
7. With ISO/CE/IP 67/DOT/EMARK Standard Certificates
8. OEM & ODM Services are Available
9. Mature technology maintains high brightness, long lifespan, and low maintenance cost
10. Thicker housing, better heat dissipation
LED Trailer Tail Lights, Brake Lights, and Side Marker Lights with integrated turn signals are covered by a 24month LED Warranty. Our goal is to make sure you get the right product and you are happy with it. If you have a warranty question or need help with setting up a warranty exchange/return, please contact us directly. We are here to help you. Additionally, any product that is not correct or does not meet your expectations can be returned within 30 days for a full refund. Items returned to us need to be in new condition with the original packaging.
Do Not Find What You Need?
As a 20-year industry experience manufacturer with a factory and a professional R&D team, we can provide, from consultation to production, a one-stop solution for you.If you do not find what you need or you have customized requirements, No worries, Just Contact Us
LED TRUCK LIGHTS
Contact Us
Are you looking for vehicle lighting manufacturers?
24hours online Service
Related Products