Motorcycle LED Brake Tail Lights|License Plate Light|Turn Signals|LED Running Lights
LED Brake Tail Lights are upgraded LEDs with high-performance, to give you super brightness with lower power consumption than traditional lights. They can be used as brake lights, Tail Lights, and Turn Signals, License plate lights, running lights providing you with more on-road warning lights options, Made of premium PC and ABS materials, IP67 waterproof makes it perfect for riding on the road even on rainy or stormy days to keep you. Fit for Motorbike, Bicycle, Motorcycle
Features
Motorcycle LED Brake Tail Lights with Turn Signals Running and License Plate function. 12V,16 LED Double Rear Motorbike Light Unit, Black body with smoked lens. The mounting plate fits behind the number plate.
Multifunction Super Bright: Super quality LEDs with high brightness, high performance, and low power consumption
Motorcycle LED Brake Tail Lights Universally fits for most motorcycles, Harley Davidson, street bikes, standard bikes, naked bikes, dirt bike ATVs, off-road vehicles, Custom Chopper, Cruiser, Dirt Bike, Buggy, Cafe racer, ETC
Absolutely waterproof: The seamless shell and additional waterproof cap guarantee the protection level of IP67, and the service life is about 50,000 hours.
HAWKS Offers the best quality but lower price in the market
Features
This Motorcycle LED Brake Tail Lights Make your nights brighter:
Our LED lights are equipped with 16pieces of high-intensity LED chips. 6 amber LEDs for indicators,13 red LEDs for & tail/brake light,4 white LEDs for the number plate light
High performance: The pure ABS housing can withstand various harsh environments with strength and durability. Upgraded bifocal lens The special bifocal shape design can help refract and focus light, and significantly improve the focusing effect. Our LED brake lights can be used for 50,000 hours and are IP68 rated against water, dust, shock, and corrosion in harsh environments.

Better heat dissipation:
The specially customized dual-tail streamlined lamp housing and the fins attached to the lamp body can greatly increase the contact area with the air, thereby speeding up the heat dissipation rate. The best heat dissipation effect and the best heat sealability. It extends the life of the light bar by over 50,000 hours.
All-in-one unit – includes tail light, brake light, number plate light & indicators
Material: PC&ABS plastic
Voltage: DC 12V
Wattage:2.88W(16 LED,0.18W/LED)
Shell Color: Black,White,Red
Light Color: Red&Yellow
Black body with smoked lens
Mounting plate fits behind number plate:Universal Fitment on ATVs, Dirt Bike, Custom Chopper, Cruiser, Buggy, ETC.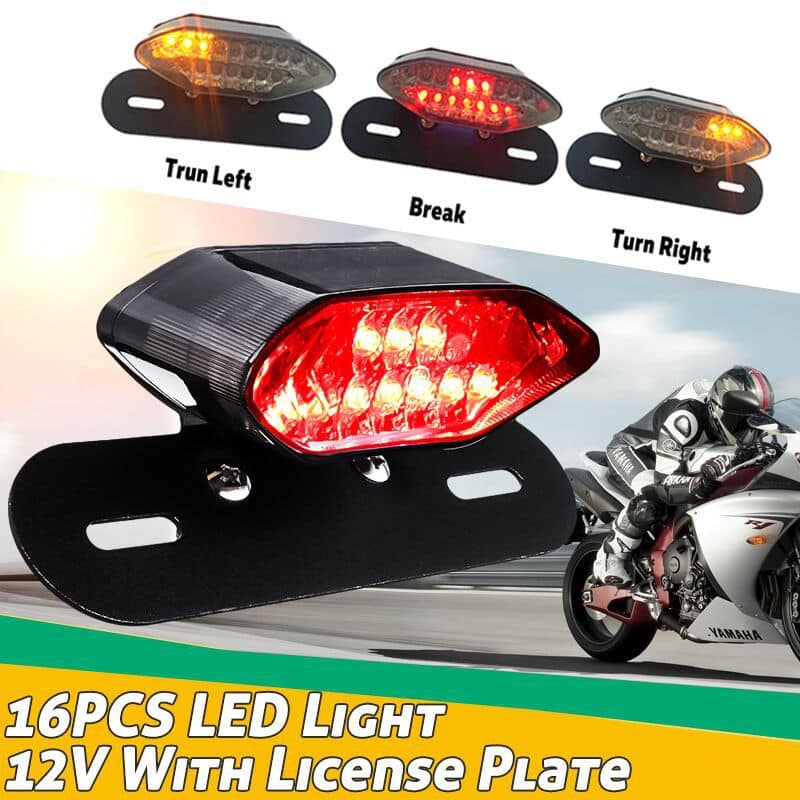 Fitment:
Universally fits for most motorcycles,Harley, street bike, standard bike, naked bike, dirt bike ATVs, off-road vehicles, Custom Chopper, Cruiser, Dirt Bike, Buggy, Cafe racer, ETC.
Wire Setup:
Ground–black wire
Running Light–green wire
Brake Light– red wire
Left Turn signal Light– white wire
Right Turn signal Light– yellow wire
Advantages:
1: Bulti in the flash relay, universal mode, plug to play
2: Vehicle-grade specialized led chips: can be used in -40℃~105℃ ambient temperature
3: Waterproof IP67, long brightness
4:Built in EMC, anti-electromagnetic interference, no canbus problems
5. Clock design, unique design in the world
6. Super bright LED, Stable steel, not easy to wear, Easy installation
7. With ISO/CE/IP 67/DOT/EMARK Standard Certificates
8. OEM & ODM Services are Available
9. Mature technology maintains high brightness, long lifespan, and low maintenance cost
10. Thicker housing, better heat dissipation
Motorcycle Tail Light with integrated turn signals is covered by a 24month LED Warranty. Our goal is to make sure you get the right product and you are happy with it. If you have a warranty question or need help with setting up a warranty exchange/return, please contact us directly. We are here to help you. Additionally, any product that is not correct or does not meet your expectations can be returned within 30 days for a full refund. Items returned to us need to be in new condition with the original packaging.
Do Not Find What You Need?
As a 20-year industry experience manufacturer with a factory and a professional R&D team, we can provide, from consultation to production, a one-stop solution for you.If you do not find what you need or you have customized requirements, No worries, Just Contact Us
Related Products
Contact Us
Are you looking for vehicle lighting manufacturers?
24hours online Service
LED HEADLIGHTS