Motorcycle LED Turn Signal Lights
Our Motorcycle LED Turn Signal Lights are upgraded 18LEDs with high-performance dual row built-in 2835LEDs, to give you super brightness with lower power consumption than traditional lights. They can be used as turn signal lights, Day running lights, With Red Blue, and white colors, providing you with more on-road warning lights options, Made of premium ABS plastic with high flexible rubber, this turn signal light is a well-made bendable, durable, not easy to break, can effectively prevent accidental falls. IP67 waterproof makes it perfect for riding on the road even on rainy or stormy days to keep you safe
Features
4PCS/2PCS Motorcycle Indicators: Motorcycle LED Turn Signal Lights Suitable for Motorcycle Motorbike Scooter Quad Cruiser Off-Road,2pcs or 4pcs/set for your choice
RRL+Turn Signals:18LEDs with high brightness, high performance, and low power consumption
Unique Flowing LED Lighting Design: Motorcycle LED Turn Signal Lights Amber Color and Flowing Mode, Great for Turn Signal and Indicators Usage
Upgraded Version High Flexible Rubber Design: Snakeskin Style Handle, Curved High, Which Can Effectively Prevent Accidental Falls
Easy to Install: Red wire to DRL, Yellow to Signal, Black to Negative, very easy to install, Directly Mount to the Original Turn Signal Light Place
Absolutely waterproof: The seamless shell and additional waterproof cap guarantee the protection level of IP67, and the service life is about 50,000 hours.
HAWKS Offers the best quality but lower price in the market
Features
1.Product name: Double-sided flowing water turn signal
2.Light source type: LED
3.Lamp beads type: SMD chip lamp beads
4.Number of lamp beads: 18
5.Shell material: Engineering plastic
6.Lens material: PC
7.Lamp base material: Soft rubber
8.Shell color: Black
9.Lens color: Smoked gray
10.Working voltage: 12V
11.Power: 3W
12.Current: 0.25A
13.Screw size: 10MM
14.Front light color of turn signal: Yellow light
15.Daytime running light (rear): Blue/Red/White
16.Number of wire harnesses: 3
17.Wiring mode: black wire connects to negative pole, yellow wire running light/red wire always on, connects to positive turn signal
With IC control chip, with the function of light flow (flow mode/sports mode), integrated flasher resistor function
It is a Universal fit for most motorcycles with 10mm screw holes, such as for Honda, Kawasaki, Yamaha, Suzuki, KTM and etc
Built-in LED flash relay
Turn signal light have built-in LED flasher relay chip, with 50-120 times/min, plug-in to play most for motorcycles
– Super bright 18LED running water turn signal.
– Front: Amber ECG ripple water turn signal + daytime running light (White/Blue/Red).
– Back: Daytime running light (White/Blue/Red).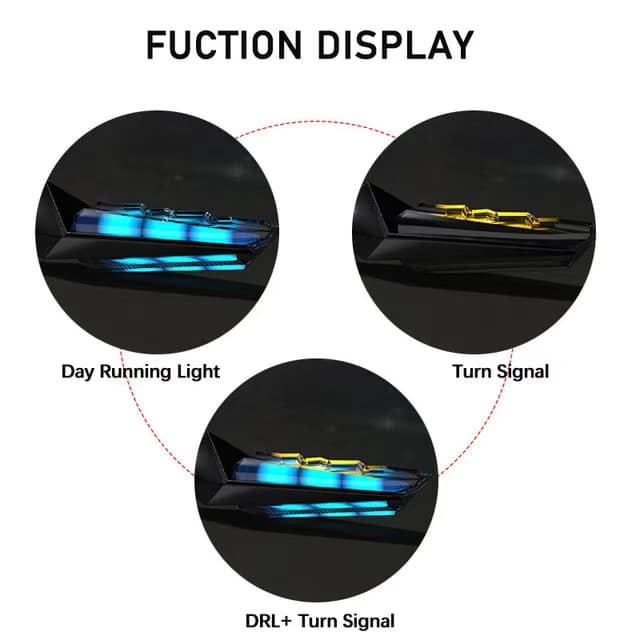 1.Waterproof, Durable, Low temperature, low power consumption, high performance indicator.
2.Built-in LED flash relay with 50-120 times/min, Plug to play for most motorcycles.
3.With bendable rubber, more durable.
4.Update novel design, ECG waveform double-sided flowing water turn signal.
Day turnning light+Turn Signal
Transparent acrylic
Good light transmittance,
fully display LED lights
Smooth and bright surface
New ABS plastic and Bendable Flexible Rubber
Good overall performance
Chemical stability
High impact resistance, high heat resistance
Flame retardant, abrasion resistance

Bendable Flexible Rubber
– High toughness bendable rubber
– Prevent accidental falls effectively
1. Before installing the turn signal, please connect the turn signal separately to the 12V DC power supply to test whether the turn signal can work normally.
2. Installation instructions of the flowing water turn signal:
If only half or a few LED lights light up or flashes quickly:
(1) Please remove the flash relay on the motorcycle
(2) The flash relay can be replaced with an LED flash relay which can adjust flashing speed , slow down the frequency.
Easy To install
Red for DRL
Black for negative
Yellow for turn signal lights

Notice:
Please understand, the red / blue / white is the lighting color of turn signal light, not the plastic cover
Advantages:
1: Bulti in the flash relay, universal mode, plug to play
2: Vehicle-grade specialized led chips: can be used in -40℃~105℃ ambient temperature
3: Waterproof IP67, long brightness
4:Built in EMC, anti-electromagnetic interference, no canbus problems
5. Clock design, unique design in the world
6. Super bright LED, Stable steel, not easy to wear, Easy installation
7. With ISO/CE/IP 67/DOT/EMARK Standard Certificates
8. OEM & ODM Services are Available
9. Mature technology maintains high brightness, long lifespan, and low maintenance cost
10. Thicker housing, better heat dissipation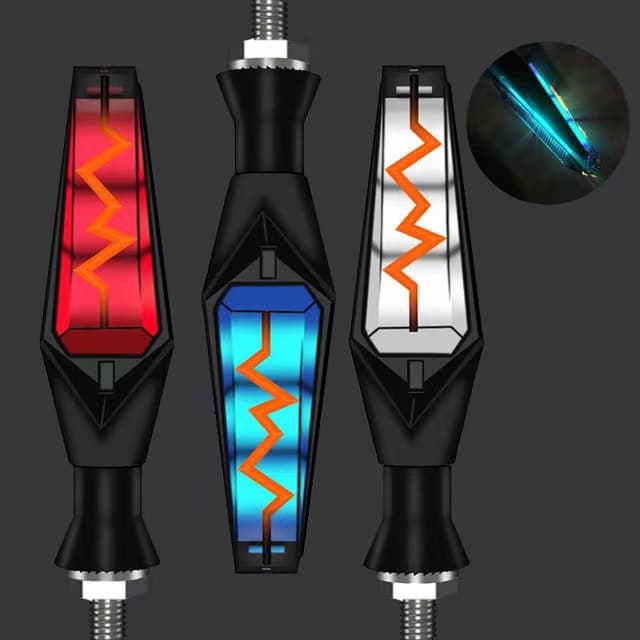 Waterproof Motorcycle Led turn signal lights are covered by a 24month LED Warranty. Our goal is to make sure you get the right product and you are happy with it. If you have a warranty question or need help with setting up a warranty exchange/return, please contact us directly. We are here to help you. Additionally, any product that is not correct or does not meet your expectations can be returned within 30 days for a full refund. Items returned to us need to be in new condition with the original packaging.
About HAWKS
Guangzhou Hawks Motoparts Co., Ltd is a leading vehicle lighting manufacturer and supplier in China, With more than 15 years of industry experience. Hawks lighting has been pushing the envelope with the latest in LED technology. Hawks Lighting manufacture the brightest and most affordable motorcycle lighting kits available on the market, period. Not only do our lights add a custom, vibrant style to any bike, but they also increase the visibility of the rider when riding at night. Available in multi-color and single color options, this is the one-stop for anyone looking to add accent lighting and safety to their sports bike, trike, cruiser, or metric bike. Moreover, Hawks also produce truck light kits including truck led lights, truck signal light kits, truck brake lights and offroad lights,4×4 led lights. with 15years of experience in the field of the vehicle lighting industry. And now we play a leading role both home and abroad, we insist on" Quality First, Trusting First and Service First" as our business philosophy
Custom Motorcycle Lights
Contact Us
Are you looking for vehicle lighting manufacturers?
24hours online Service