Round Car Motorcycle Trailer LED Warning Light
Round Car Motorcycle Trailer LED Warning Light, super-bright 24 LED provide maximum visibility and safety, white, amber, red color. Universal fit for all cars, motorcycles, trucks, trailers with 12V/24.Long life span and low power consumption.
Easy to install, wire connector, shock resistant. The Circuit board is completely sealed by epoxy to ensure its waterproof feature.24LED Rear Car warning light can be used for steering, braking, width indicator, warning lights, waterproof highlighting, can be applied to a variety of car models
Features
Multification:Round Car Motorcycle Trailer LED Warning Light Very suitable for additional decoration, used as the third brake light, rear brake light, direction light, etc.
High quality LED :High Quality ABS Plastic, Resistant to High and Low Temperature
Replace original:The original reflector is modified with LED light, the size is the same as the original one. There are 24 high-power LED light clips (3528) in each light
Water Sealed :IP68 Waterproof, Sealed by High Quality Waterproof Gel, Make it Resistant to Water Damage
Super Bright:Super bright Car Motorcycle Trailer LED Warning Light, provide maximum visibility and safety. Can be used as sider mark, step light, indicator light,warning light. Fits for motorcycles, boats cars, trucks, trailers, RV's with 12V and 24V
Easy to Install:connect the positive and negative cables to any power socket in your vehicle. It has screws and can work under 12V.
HAWKS Offer the best quality but lower price in the market
Round Car Motorcycle Trailer LED Warning Light
Round Car Motorcycle Trailer LED Warning Light
Specification:
Voltage: 12V/24V
Current: 0.2A
LEDs: 24
Long Life: 30,000 Hours
Overall Diameter: 140mm/5.5″
Overall Depth: 80mm/3.1″
Attachment Center-to-center distance: 45mm
House Color: Red & Amber & Black
Light Color: Red & Amber
Material: ABS Plastic
3 Functions As Follow:
Tail Light
Brake Stop Light
Indicator Light – Amber Light
Wire Connection:
Red Wire (+): Brake Light
Yellow Wire (+): Turn Signal Light
Black Wire (+): Negative
Blue Wire (+): Tail Light
Black Wire + Red Wire + Yellow Wire+ Blue Wire: Driving Light & Turn Signal Light

Features:
Plastic Body & Lens
Super Bright Leds
Universal Bolt Mounting
Spade Terminal Connections
Pre Fitted Wiring Grommet
Minimum Power Consumption
High temperature resistant plastic lamp body
High transparent lampshade
Built in intelligent IC
Round Car Motorcycle Trailer LED Warning Light has three optional, custom motorcycle truck warning light are available if you have special requirements
Red Color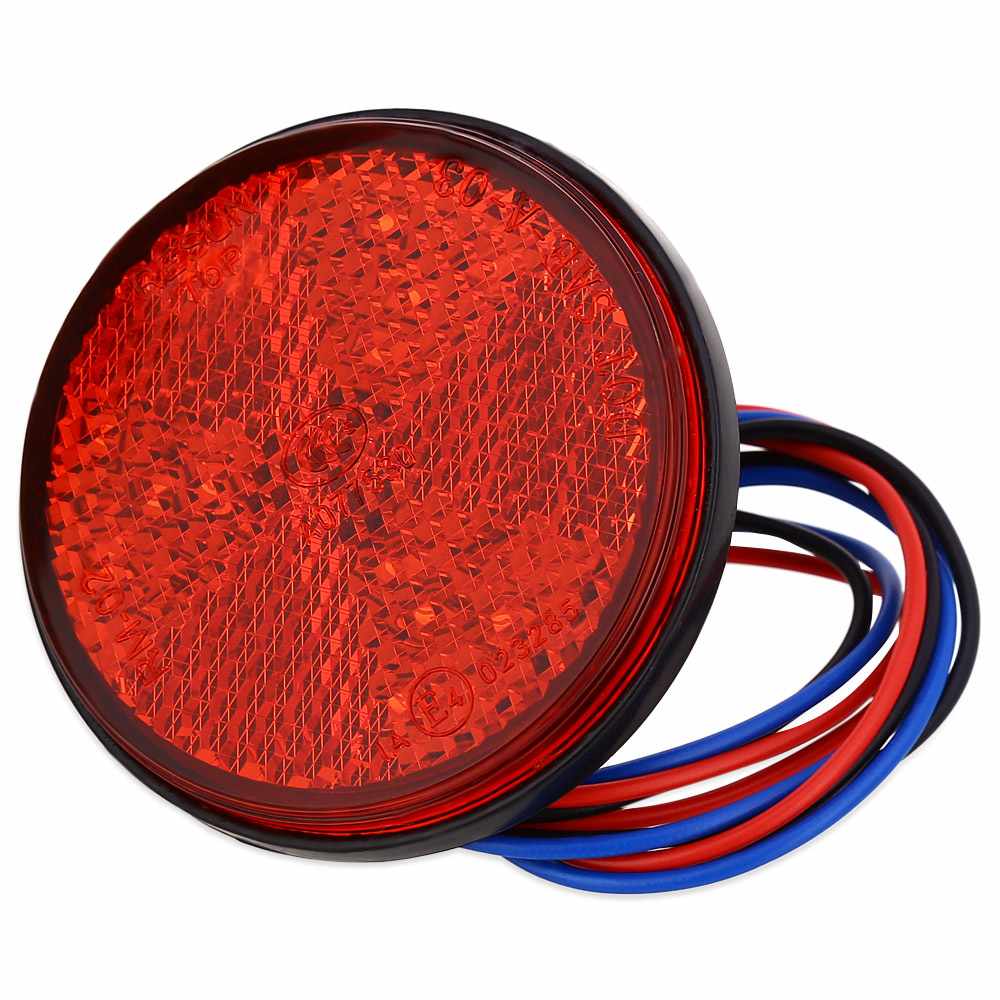 White Color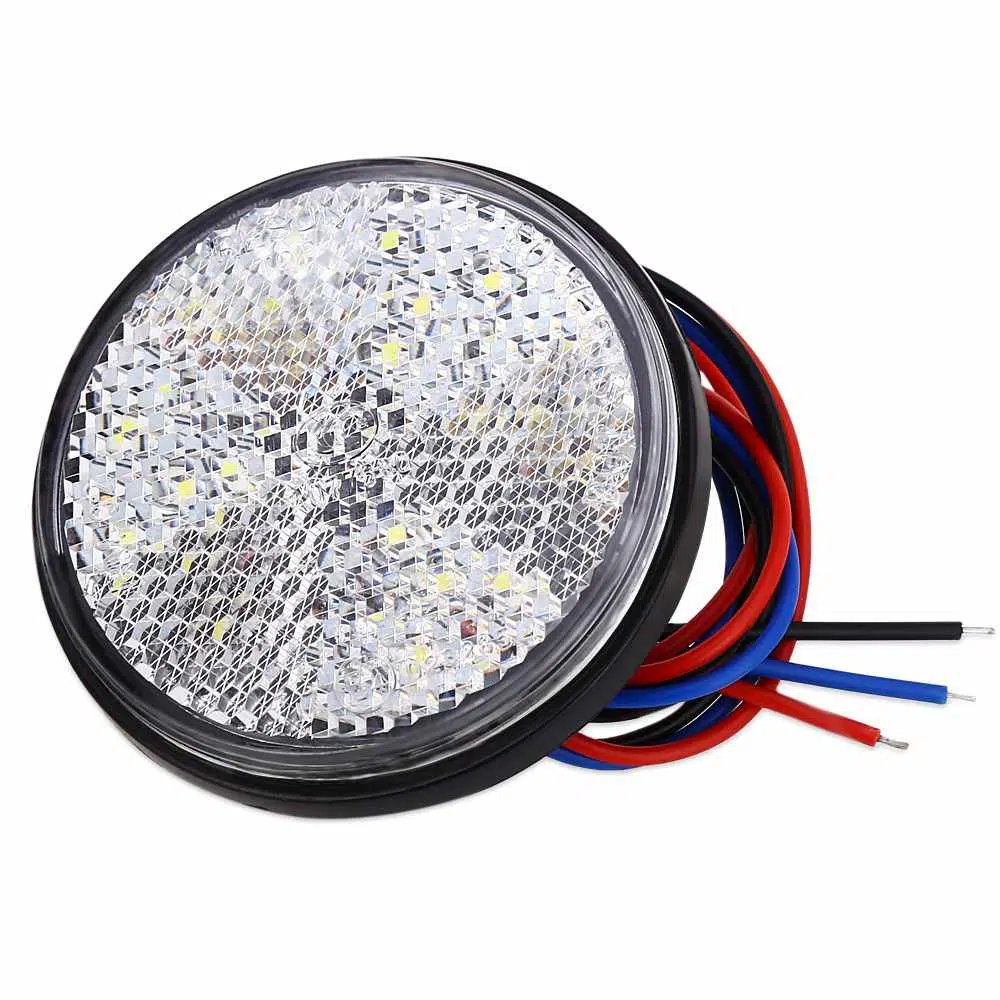 Amber Color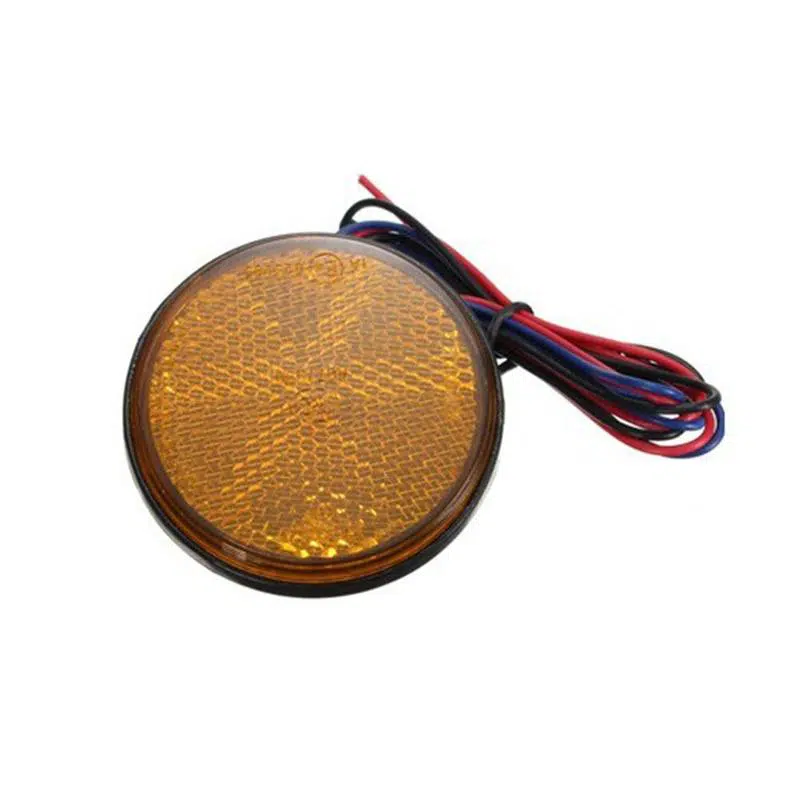 Easy to install, connect the positive and negative wires to any of your vehicle's power outlets, it comes with screws and works at 12V.24 high power LED light clip (3528) inside each light. It is perfect for add-on decoration and usage as 3rd brake light, Tail Brake Stop Light lamp, Under Bumper/ Kit Tail Brake Light.
3-wire connection: black-cathode/ground, blue- small light (for 50% light), red- turn signal or brake light (for 100% light)Suitable for all models:(Trucks, trucks, locomotives, motorcycles, bicycles, bicycles, cars, ATVs) are used as warnings;1. The circle is installed on the side of the motorcycle or on the front shock absorber. There are yellow, white and red. The back is fixed by screws. Double-sided adhesive tape is also available; Second, the long rear reflector is usually red and fixed with screws. After installing this product, it will improve your driving safety performance and make your car more personal!
Fitment:
These Lamps Are Perfect For Trucks, Off-road Vehicles, 4×4, Military, Mining, Boating, Farming, And Heavy Equipment Etc.
This High Power Led Work Light Is Lightweight, Shockproof, And Durable. 
LED Truck Lights
Do Not Find What You Need?
As a 15-year vehicle lighting industry experience manufacturer with a factory-equipped with a strong R&D department, we can provide, from consultation to production, a one-stop solution for you for any custom vehicle lighting products
Contact Us
Are you looking for vehicle lighting manufacturers?
24hours online Service