Motorcycle Underglow Lights| Led Accent Lights
Motorcycle Underglow Lights, which we also call Led Accent Lights, or atmosphere Lamp which utilizes ultra-bright surface mounted 5050 SMD LED technology, producing extremely bright colors for a custom style plus added visibility when you're riding at night. With 5050 SMD LEDs, you're getting 3 colors in 1 LED chip. The result is a color spill that is much more vibrant and much brighter. 4pc to 30pc accent lighting kits are available featuring ultra-thin LED strips that you can set up in a custom configuration on your bike. You'll be able to create unique lighting patterns that showcase your motorcycle while also adding a new dimension to your riding experience.
Features
Motorcycle Underglow Lights| Led Accent Lights:Each mold Has 6 LED Bulbs for Super Brightness, Fashion Design, A Good Choice for Your Trailer Truck RV Pickup SUV RV Van
Wireless Remotes:Intelligenet remote control,4 button wireless remote.100ft.wirless control range.360 degree all around start up
Star lighting mode:Motorcycle Underglow Lights have 4 intelligen mold static,flashing,fading,brake, super cool
Water Sealed IP67:Upgrade Techs for Better Waterproof & Dustproof Performance
Easy to Install:White Wire connect to brake light, when brake, all light will change to red; Red wire connect to positive electrode; Black wire connect to negative electrode.
HAWKS Offer the best quality but lower price in the market
Motorcycle Underglow Lights| Led Accent Lights
Features"
*Wireless Remote Control RGB LED car/motorcycle modification lights, with a variety of static color modes and dynamic modes.
*Brake light function, give you more security when driving at night.
*Super bright 5050 SMD RGB LEDs, multi changes with remote control, support memory function.
*Waterproof&Heatproof&Shockproof.
*Pre-installed Adhesive on light, with an extendable cable, easy to install.
*DC 12V, Motorcycle Underglow Lights also fit for most cars, ATV, motorcycle-like Halley, Knight.
RGB Lighting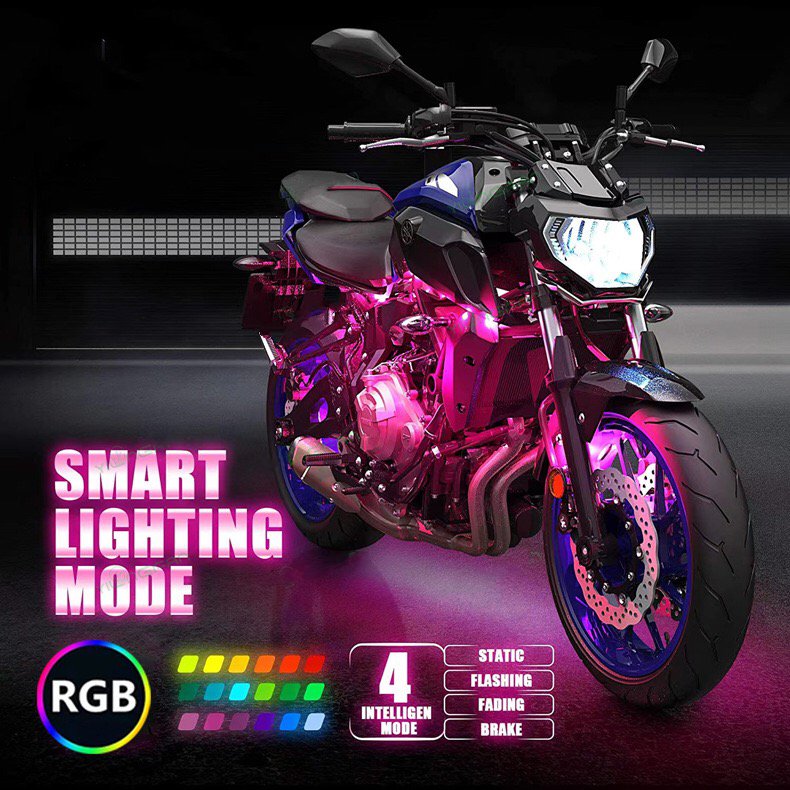 7 Solid colors,creat 15 static color

50W Super Bright

Fully Sealed & Waterproof
Strips Can Be Cut to Size
Mount Using Adhesive Tape
Intelligent Brake Mode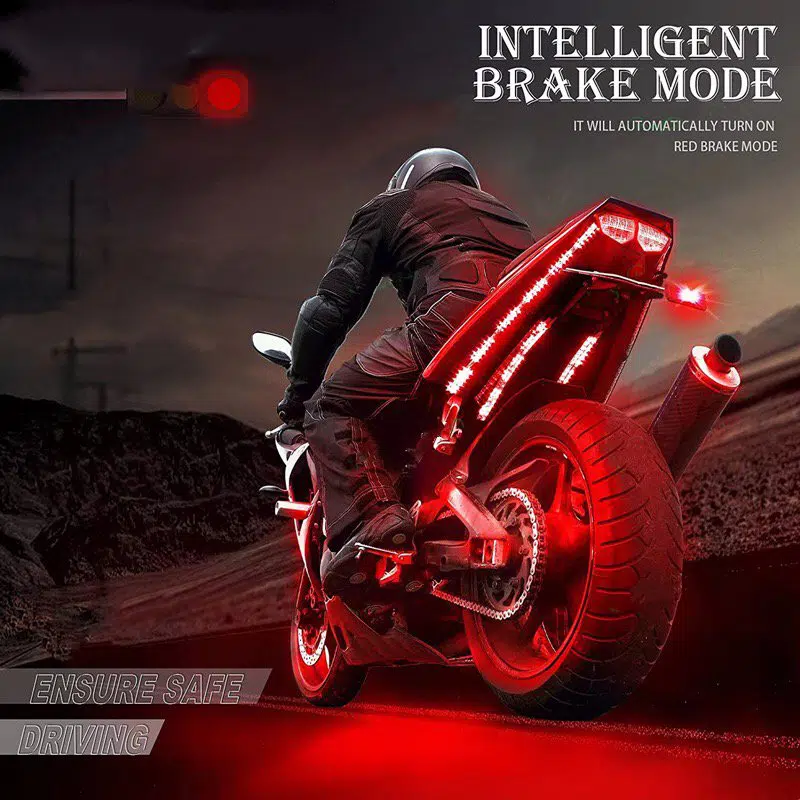 Smart Brake Mode
Durable in Tough Conditions
Color Cycle, Flashing, Fading Modes
White wire to brake light
Create Custom Lighting Patterns
Wireless Remotes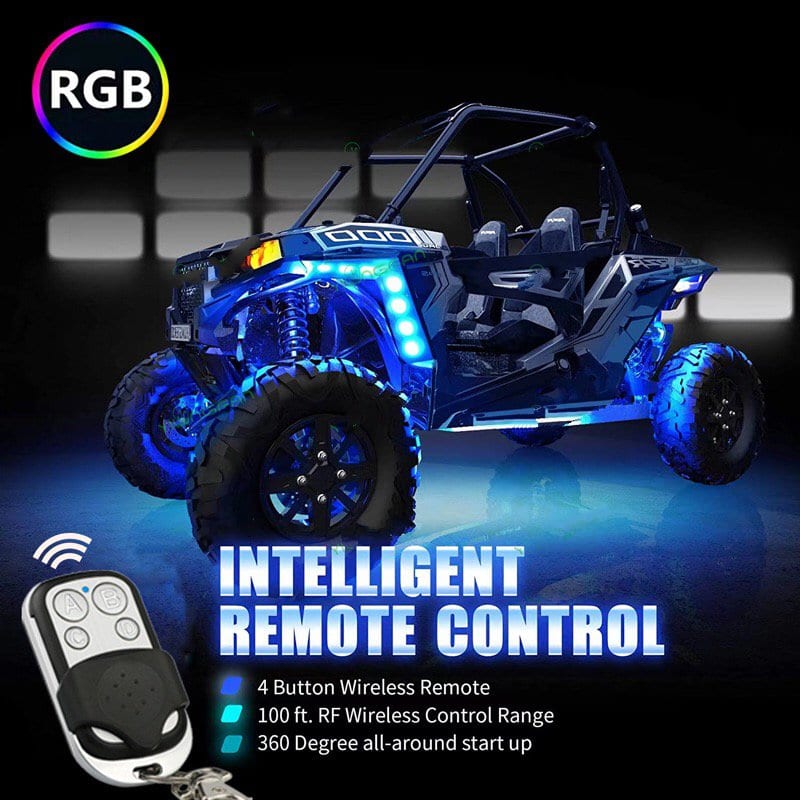 Includes Remotes
Activate All Kit Functions
4 Buttons Control All Features
Pre-Programmed
Works Within 30-Foot Range
Wiring Instructions:
Motorcycle Underglow Lights are very easy to install. The white wire connects to the brake light, when brake, all light will change to red; Red wire connects to the positive electrode; Black wire connects to the negative electrode.
Instructions for remote control:
Instructions for remote control:
A-15 static colors modes + 1 Multi-color flash mode + 1 Multi-color gradual change mode
B-Single color strobe mode (color depends on A key chosen)
C-Single color breath mode (color depends on A key chosen)
D-Power ON/OFF (with memory function)
Package Included:
(?)X Motorcycle Underglow Lights| Led Accent Lights
1X Transmitter (with 0.5m power cable)
1X Wireless remote with a slipcover (battery included)
1X sticker
1X Extendable cable (1.2m)
The Automatic Brake Lights feature illuminates all installed LEDs in red, mirroring the motorcycle's brake lights and safely signaling other motorists on the road. Pull the brake handle and the brake light will instantly illuminate red LEDs throughout the lighting kit. This feature can be used whether the control box is powered on or off. To activate the function, install the white wire from the control box into the motorcycle's brake signal wires.
With the ultra-thin and flexible LED lighting strips, you can create a completely custom layout for your bike by installing them to the turn signals, fenders, frame rails, beneath your seat, and more. These strips can also be cut to size when needed to make the installation process even easier. With this lighting kit's expandability option, you can install up to 30 ultra-bright LED strips for the ultimate lighting experience. The control box has a unique, round design, and its small size makes it extremely easy to hide. Included with the many lighting features is Advanced Million Color Cycle Mode, which you can use to scroll through a nearly unlimited number of variations in the shading of each solid color option.
All of our Motorcycle Underglow Lights| Led Accent Lights to come with 24 months warranty
Frequently Asked Questions
Feedback From Our Customers
Motorcycle LED Signal Running Lights
Do Not Find What You Need?
As a 15-year vehicle lighting industry experience manufacturer with a factory-equipped with a strong R&D department, we can provide, from consultation to production, a one-stop solution for you for any custom vehicle lighting products
Contact Us
Are you looking for vehicle lighting manufacturers?
24hours online Service